BBQ Safety Guide for Moms & Moms to Be
Dining in the sun may feel great, but it can mean bad news for your food. As food bacteria grows best between 40 – 140 degrees, it seems that bacteria enjoy 75 degree weather just as much as we do. Who knew?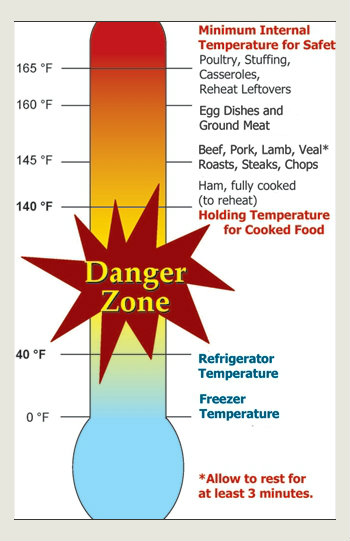 Photo courtesy USDA

Pregnant women and small children who have suppressed immune systems are even more susceptible to the bacteria found in food. Unborn babies are also at risk of getting sick as their immune systems are not yet fully developed.

Does that mean that you should ward-off all outdoor summer gatherings? Absolutely not!!!

Most foods are perfectly fine outside the fridge for two hours and some even longer. That said, it's good to know the facts and play it safe.

Here are just a few simple suggestions on the smart choices you can make to keep your entire family happy, healthy and fed this entire summer season.
Avoid Most Dairy & Mayo Based Dishes:

Few things are a better breeding ground for bacteria than dairy and uncooked eggs. Like raw meats, they are extremely temperature sensitive, and should be kept refrigerated at all times. Funny enough they are both a fairly common ingredient in outdoor dining side dishes. Think potato salad or macaroni salad. The trick here is to simply avoid any dishes made with soft cheeses, creams or mayo. Condiments that have a mayo base like tartar sauce or horseradish sauce should also be avoided. On the "OK List" are salted butter (unsalted butter has a higher water ratio which can lead to spoilage) and hard cheeses (pasteurized if you're pregnant) like parmesan, cheddar, swiss and provolone. These can remain outside the refrigerator for more than two hours without additional concern.
Ask For A Reheat: If that hamburger or piece of chicken has been sitting around for a while put it back on the grill. Reheating your meats to 165 degrees should kill any bacteria that may have developed during the cooling process. While it's advised that all pregnant women stay away from undercooked meats, I highly recommend all family members do the same. Unless you are preparing them yourself and have had complete control over the cooking process, I wouldn't chance it. Who knows how long that burger was sitting on the counter before it was cooked?
Bring Something You Love: Being hungry is an awful feeling. Being hungry while staring at a bunch people eating food you can't or don't want to eat is even worse. Whether it's due to food allergies, dietary restrictions or just picky taste buds bring something to the party that you love and bring a lot of it. I also recommend bringing a few bottles of water. While most events are packed with libations, H2O can sometimes be scarce.
Pack Some Healthy Snacks: So many of us do it for our kids and yet completely forget to do it for ourselves.

mom

me meals

Go Chews are perfect for these occasions and great for you and the kids. Just grab a bag and go. If you don't have a bag of Go Chews laying around, make a quick snack pack with a combination of dried fruits and nuts that you love. Make a few bags at the beginning of the week and have them handy to grab anytime you're heading out the door.

mom

me meals

Go Chews are perfect for these occasions, so just grab a bag as you head out the door.
Reminder: While it's especially important to pay attention to food safety during pregnancy, we all should be aware of how we prepare our food. Always remember clean, separate, cook, chill, when cooking.
Kristen Bocanegra